The GIFT Box is the ideal loom kit to offer! The ultimate kit for weaving up to 264 elastic bracelets or other creations. Use the loom and follow our video tutorials to create your bracelets. Its large transparent box is perfect for storing your loom, rubber bands and creations.
It contains 11 bags of rubber bands of different styles and exclusively: 2 bags MIX, Metal, Transparent Phosphorescent, Poker, Fluo, Glitter, Transparent Glitter, Jelly, Skin, Temperature Color.
6 600 rubber bands - 11 bags

2 PINK looms + 2 hooks

Transparent travel case

+ 1 FREE bag of transparent letter beads

+ 1 FREE bag of charm letters

+ 1 FREE bag of sunny beads

+ 3 FREE bags of color clips

+ 1 FREE pocket kit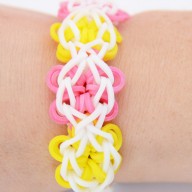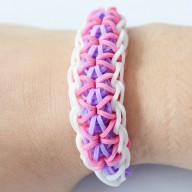 Latex Free - Not for children under 3 years.